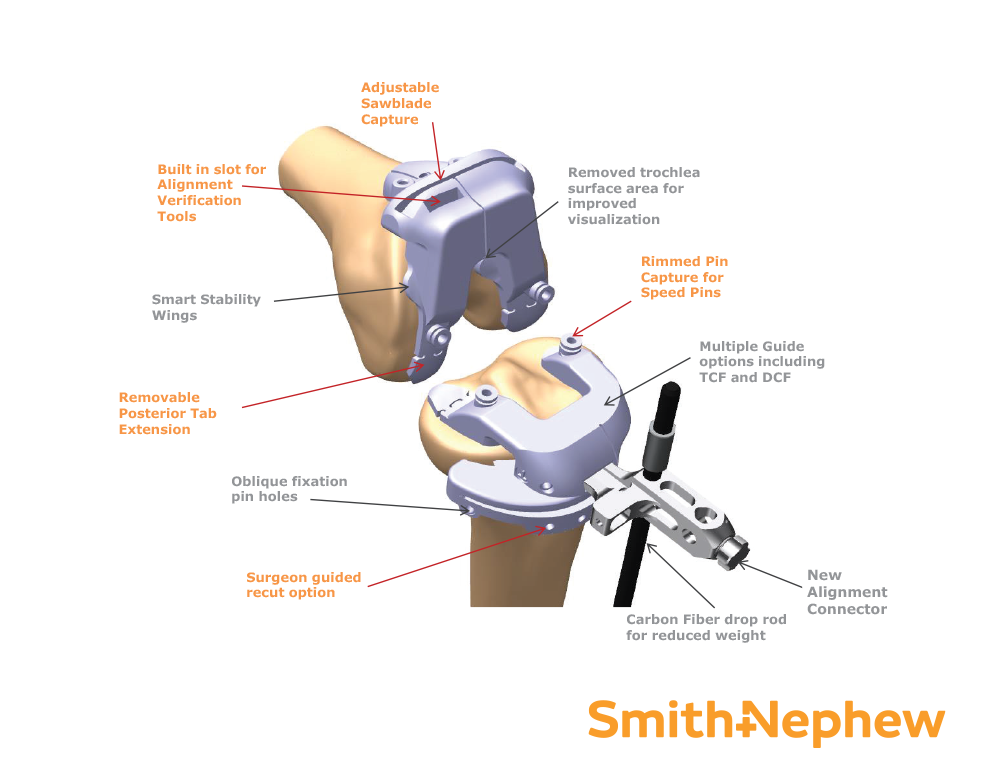 My team and I at Spriggins Orthopaedics would like to introduce you to the Visionaire Adaptive Guides (AG)
from Smith & Nephew. As one of the first surgeon's in South Australia with access to this outstanding technology, I now have this available to doctors and patients.
The Visionaire AG patient-specific cutting guides is a system of preparing your patients knee to accept the total knee components. Each patient has a unique anatomy, and so patient-specific bone cutting guides are fashioned using a unique 3D imaging system. This system allows precise bone cuts to be made to position the knee implants precisely to the knees requirements.
With a range of advantages and current published data, the Visionaire AG provides reduced hospital time, improved mechanical axis alignment and reduced blood loss. By not using conventional intramedullary jig systems in Total Knee Replacement there is reduced fat embolisation. The operation is performed without a tourniquet and there is reduced time in the operating room.
If you would like to find out more or book a consultation please contact one of my practice managers:
Western Hospital
Contact: Julie Jordan
Phone (08) 8159 1344
sprigginspm@westernhospital.com.au
Sportsmed
Contact: Michelle Barazda
Phone (08) 8362 7788
michelle.barazda@sportsmed.com.au
If you would like further information on the Visionaire AG please download the attached information brochures:
Spriggins Brochure
Visionaire AG Surgical Technique
Visionaire Meta-Analysis
Visionaire Adaptive Guidelines